ARELLANO LAW continued its rein at a spot in the bar topnotchers' list as another Chief emerged No.3 in the 2011 Bar Exam.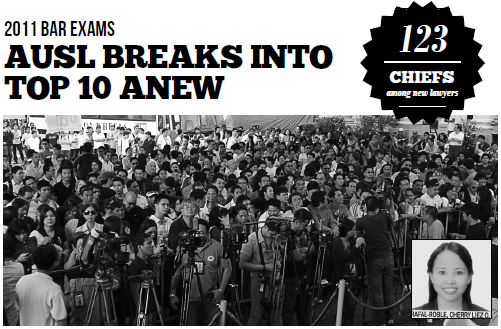 Cherry Liez O. Rafal-Roble, a 32-year-old working mother from Makati City and salutatorian of Law Class 2010, led all 123 successful bar candidates from AUSL. The school's overall passing rate is 44%.
Rafal-Roble obtained a rating of 84.445%, coming third behind two candidates from Ateneo de Manila University. A total of 1,913 examinees passed the 2011 exam, as announced by the Supreme Court on Wednesday, February 29.
"I never expected that I would top. I dreamed about failing a lot of times that if, indeed, I failed, it would not be painful anymore as I have already cried a lot in my sleep," said Rafal-Roble, who was working in her office (SGV & Co.) when she learned the news of her being among the topnotchers.
"It was my mother who always said that I would top the bar because she joked that I have the advantage of having two brains as I was pregnant when the review started last year," she added. The 2011 Bar Exam is a historic first as it was composed of 60% multiple-choice questions (MCQs) and 40% legal opinion and trial memorandum writing. Supreme Court Justice Roberto A. Abad introduced the innovation as the Bar Exam Chairperson "to exert pressure on law schools to re-examine the substance and shape of legal education."
Abad revealed that of the total 5,990 examinees, 34% passed in the MCQs, 50% in legal opinion writing, and only 15% in trial memorandum writing. The overall passing percentage of 31.95% is the second highest to be registered in the millennium.
Chief Justice Renato C. Corona said, in his speech before the release of the results, that the Supreme Court shall continue to refine the Bar Exam and introduce innovations. Corona said the intention is not to fail the candidates but rather to determine if they possess the minimum standard required to become a lawyer. He was quick to note that "success as a lawyer is not dependent on the Bar Exam."
AUSL Dean Jose R. Sundiang, Sr. said he was elated by the school's achievement despite the sudden transition to a different type of exam, but he expressed reservation as to whether the exam's objective was attained.
"I still believe that MCQs are not the accurate gauge [of knowledge and understanding of the laws]," Dean Sundiang emphasized. "The only advantage is it is easier to correct the test."
Dr. Florentino Cayco III, Director for Administration and Personnel of AUSL, said the school would give Rafal-Roble due recognition for her achievement.
"It really pays to study hard. Being No. 3 was her reward," said Cayco, who admitted having mixed emotions since there were many candidates who did not pass.
Rafal-Roble said she intends to stay in her present job for a couple of years and then later apply for a notary license and do notary work at home while tending to her family.