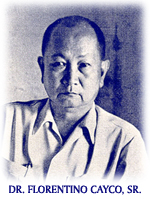 Established in 1938, through the effort of Dr. Florentino Cayco, Sr., Arellano University - School of Law formed the nucleus of Arellano University.
Named after the first Filipino Chief Justice of the Supreme Court, Cayetano S. Arellano, the original school was located in historic Intramuros, where classes were held until the 1945 Battle of Manila.
A few months later, classes were resumed in an old Spanish-type building along Legarda Street in Sampaloc. It was the first law school opened after the World War II, boasting of a strong faculty lineup, among them Fred Ruiz Castro, who was later to become Chief Justice of the Supreme Court, and Ruperto G. Martin, Jose Vitug and Antonio Barredo, who were later on appointed Justice of the same court. It also had an active student population that was in the thick of every burning issue at the time.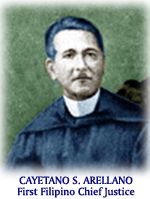 In 1948, the school was moved to Plaza Guipit, along with the other colleges of Arellano University. In 1955, the school was relocated back to its old site in Legarda, but this time housed in a modern four-storey concrete building.
The first 40 years of existence of the Arellano University (School of Law)produced graduates who topped the bar examinations, including former Congressman Francisco Sumulong, Dean Mariano M. Magsalin, Sr., the late Congressman Jose Zafra, and businessman Augusto Syjuco. Other legal luminaries who graduated from the School were the late Court of Appeals Justice Ramon Gaviola, the late former Arellano University President Florentino Cayco, Jr., bankers/finance professionals Hermilo Rodis, Eliseo P. Ocampo, Manuel Abrogar, III and Antonio de las Alas, Jr., insurance executive Domingo R. Sioson, Police General Manuel Roxas and Manila Police Chief Gerardo Tamayo.
The first Dean of the Arellano Law College was Vicente Sinco, who served from 1938 to 1940, and who later became President of the University of the Philippines. He was succeeded by Francisco Capistrano, a civil law expert who sat as Member of the Civil Code Commission that revised the old civil code and later became a Justice of the Court of Appeals. He served from 1940 to 1956. He was succeeded by civilist Enrique Voltaire Garcia, who served as Dean until 1962. Manila councilor and bar placer Mariano M. Magsalin, Sr. assumed the deanship in 1963, holding it until 1978.
In 1979, Arellano University turned over the management of the school to the Arellano Law Foundationand in 1997, the agreement between Arellano University and the Arellano Law Foundation was amended to grant full fiscal autonomy to the Foundation.
Arellano Law Foundation is a non-profit, non-stock organization established by alumni and faculty members of Arellano University for the purpose of contributing to the upgrading of the standards legal profession and to the efficient, fair, and honest administration of justice. Its major project in the attainment of this objective is the operation of Arellano Law School.
Upon its organization in 1978, the Foundation was privileged to have Supreme Court Justice Ruperto Martin as the first Chairman of its Board of Trustees with Dean Mariano Magsalin, Sr. as Vice Chairman and Arellano Law School cum laude graduate, businessman and law practitioner Eliseo P. Ocampo as Executive Director. Upon his retirement, Justice Martin was replaced by Dean Magsalin as Chairman, who served until his untimely demise in 1992. Arellano University Chairman and President Florentino Cayco, Jr. then took over as Chairman of the Foundation. In April 1995 Chairman Cayco died and was replaced by Dean Antonio Eduardo Nachura, with Paulino F. Cayco as Co-Chairman. Dean Mariano Magsalin, Jr. was appointed Executive Director of the Foundation, a position he holds up to the present.
The first dean of the Law School under Foundation management was bar first-placer and Harvard Master of Laws graduate Rodolfo O. Robles. Due to pressing business commitments, Dean Robles had to go on an indefinite leave. In his absence, Florentino Cayco, Jr., then University Chairman and President, sat as Dean of the College of Law. He was later succeeded by Agriculture Undersecretary Dante Barbosa who served until early 1986. It was from Dean Barbosa that Mariano M. Magsalin, Sr. took over as Dean. Magsalin's term was however, interrupted when he suffered a heart stroke that rendered him temporarily unable to continue with his work. Jose Vitug, now Justice of the Supreme Court, took the helm as Acting Dean in his stead. Mariano M. Magsalin, Sr. subsequently recuperated and, in fact, re-assumed his deanship until his death in 1992. Bar topnotcher Antonio Eduardo Nachura was tapped to succeed Magsalin. When Dean Nachura was appointed DECS Undersecretary in November 1994, he had to relinquish the deanship. Mariano F. Magsalin, Jr. then took over as the Dean, a position he holds up to the present.